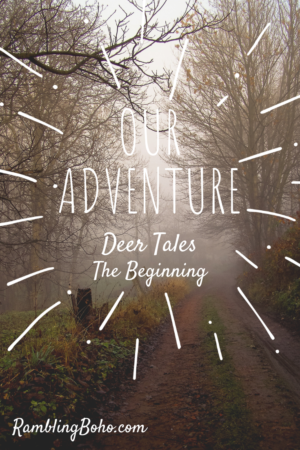 Deer Tales: The Beginning
This post may contain affiliate links.
My first Deer Tales post….
On July 11, 2011 our family set off on a journey unknown. We had packed up all our stuff, made two truck runs, and left city life. We purchased a 33 year old home in the rural area known as the Chaparral Subdivision.
What does that mean? Well, according to the post office, our zip code is in the town of Deer Trail. Though the actual town is 35 minutes away. According to our taxes, we pay to the Agate district. That town is also 35 minutes away in the opposite direction. According to county records, we live in the county of Elbert. The nearest town in that county is also 35 minutes away in yet another direction.  OK, so that might not seem strange, except for the fact that both Deer Trail & Agate are in Arapahoe county yet we are in Elbert County.  Just a bit confusing for the newbie.   😉
So, we sort of belong nowhere, but to everyone. We live in the rural of rurals. Dirt roads in every direction. The nearest city is over an hour away. Why did we do it? I'll explain that later.
---
Are we getting accustomed to rural life? Let's just say it's been an adventure. And that's what part of this blog is about. Our adventures.
I started House-Wise in 2010. I was enjoying my blog and facebook pages. But in 2011, I started Deer Tales, a blog about our adventures out here. Since then I've merged House-Wise and Deer Tales to become the Rambling Boho.  It's about life and home.  We just do it from a rural perspective now.