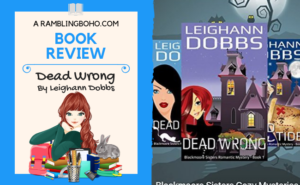 Book Review
Blackmoore Sisters Cozy Mysteries Books 1-3
by Leighann Dobbs
This post may contain affiliate links.
---
This is a fun little series. Lighthearted.
Being five books, it's hard to give it a full five stars, as there is a lot of ups & downs.  But overall, the 5 book set is a solid 4 stars.  Solid.
Although each book has different mysteries, the characters slowly develop throughout the books.  Almost too slowly though.  Sometimes I feel like I need more in the character development.  I do like how new characters get introduced.  There are hints of them previously, and they don't feel like they just pop in with the next book.  I give the author major kudos for that!
I like the cat, Belladonna.  I do think she was a bit ignored in the first book, and took on more of a main character in the second and third.  She obviously had a secret and I couldn't wait to uncover who she was. 😉
The plots transpire at a nice pace.  I don't feel like there is too much nonsense, and it flows well.  Each book continues on from the last, but when one finishes, it's not a cliff-hanger.  You can't wait to read the next one, but you don't feel like you need to finish the story.  I like that about this series.
The books are suspenseful and mysterious.  You're trying to solve the mystery along with the girls. The romance in the books take place almost in the background and is not in your face.  Good, because I'm not a romance fan.  The hint of it is very nice.
The books are a nice relaxing read. I've enjoyed these books, and I will admit I have sought out other books by the author.  All are good reads!
Blackmoore Sisters Cozy Mysteries Box-Set Books 1-5
Blackmoore Sisters Cozy Mysteries
Cozy Mystery
February 2, 2018
Kindle
851
B079KLJFJ3

A three-hundred year old mystery, four magical sisters and a cat.
The Blackmoore sisters discover their paranormal powers as they find themselves scrambling to find a real killer while they battle a crooked Sheriff, planted evidence, and a long list of suspects that all had a reason to kill.
This is a box-set of the first five books in the Blackmoore Sisters Cozy Mystery series.
Books include:
Dead Wrong
Dead & Buried
Dead Tide
Buried Secrets
Deadly Intentions