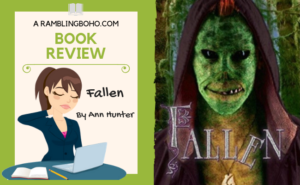 Book Review
Fallen
by Ann Hunter
I received a copy of this book from the author, with no promise of review.
This post may contain affiliate links.
---
One prince.
One mistake.
One… chicken?
I read & reviewed Fallen: A fractured retelling of THE FROG PRINCE (Crowns of the Twelve Book 3) by Ann Hunter. Afterglow Productions
I have to say right off that this is a very strange book. I'm absolutely not saying it's bad, it's just strange. In chapter one, I was reading a story about a prince running away & getting captured by  robbers, of which of course he falls in love with. In the second chapter, I was suddenly reading about a couple hens about to get slaughtered. At this point I thought I was reading a book of short stories. But back into the 3rd chapter and we're talking about the prince again, and the hen… who reads auras by the way, who is now part of the prince's story, and now so is a Ban Sidhe.
That just gives you an idea how the book plays. It really stuck out to me even at the end of the book.
This is a very twisted tale. The author has a great imagination. The strangeness really draws you in, and you want to find out what happens next. I have to say, I don't know the story of The Frog Prince, so this is just a paranormal story to me without any background of what's supposed to happen. I think it's well written, and the author is a good story teller.
The book is fun, and flows fast. You really need to read the first two books in this series, The Subtle Beauty & Moonlight, before reading Fallen, which I have not. I am going to read the first 2 books, and possibly the one that comes after this, A Piece of Sky.
Right now you can read it for free if you have Kindle Unlimited.
Fallen: A fractured retelling of the Frog Prince
Crowns of the Twelve Book
Fantasy
Afterglow Productions
October 3, 2014
Kindle
250
B00N9RT7UA

"One prince. One mistake. One... chicken?

A twisted retelling of the fairy tale, The Frog Prince, featuring your favorite villain from The Subtle Beauty & Moonlight, Sylas Mortas.

What would YOU do for love?

17-year-old Prince Sylas of Killeagh wants what every one else wants: control over his own life. When he tries to run away from home and escape an arranged marriage, the last thing he expects is to fall in love with a robber in the woods. Hiding behind a mask, the robber girl seems to lead a life of freedom Sylas has only dreamed of. Their adventure comes to an end when the Castle Killeagh guards hunt Sylas down and he's forced to return home. He convinces his parents to allow him to find the girl again and consider her as a candidate for marriage, but he only has until the next full moon to find her, or all bets are off.

Death has a name, and it is Crwys. As a ban sidhe, her job is to visit the great houses of The Summer Isle and keen out the living to prepare them for death. King Sionnach has far outlived his days and it is time he cross to the Unliving World. When she arrives, a young prince named Sylas intervenes and offers to go in his grandfather's stead. This break with tradition, and selfless sacrifice, move Crwys into loving Sylas, who looks so much like a shadow from her past. But when he crosses her to be with his true love, he invokes the wrath of a woman scorned.

Rós is just a little, aura-seeing, red hen whose master believes she is chosen by the gods. Her arrival at King Sionnach's court is insignificant to Sylas at the time, but their destinies are interwoven. Can she help Sylas save himself from the curse Crwys has planned for him? Or will he become a fallen frog prince?

In this unexpected love story, Happily Ever After may not always begin with Once Upon a Time."